Child Safety Seat Inspection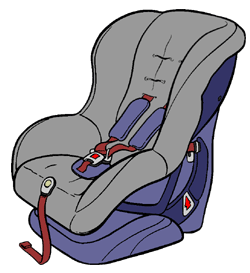 4 out of 5 Child Safety Seats are used INCORRECTLY
Could your child's seat be one of them?
Proper Child Safety Seat Use
Children under 12 are safest when properly restrained in the back seat of a vehicle. No child should ever be placed rear facing if there is an airbag.
Stage 1:
Infants up to one year of age and under 20 pounds should ride in a rear-facing infant seat in the back seat of a vehicle.
Harness straps should be at, or below, shoulder level.
Stage 2:
Infants and children under 1 year of age and less than 30 – 35 pounds should ride in a rear-facing convertible seat. (Seat labels will tell you exact weight.)
It is recommended for optimal protection however, that children remain rear-facing past their first birthday as long as the weight guidelines of the seat are followed and the child's head is at least one inch below the top of the seat back.
Harness straps should be at, or below, shoulder level.
The American Academy of Pediatrics now recommends that "All infants and toddlers should ride in a Rear-Facing Car Safety Seat until they are 2 years of age or until they reach the highest weight or height allowed by their car safety seat's manufacturer.
Stage 3:
Children over one year of age should remain in forward facing convertible seats or combination seats until they reach 40 pounds (around the age of 4) or reach the height limit of their seat. Some Britax models allow harness use until the child reaches 60 pounds.
Harness straps should be at, or above, shoulder level.
Stage 4:
Massachusetts Law:
All Children age 8 and under and under 57" tall must be in a Federally Approved Child Safety Seat or booster seat
Booster seats should NOT be used with a lap belt only. The child should be moved to a seating position that has a shoulder belt, where a booster seat can be used. If no shoulder belt positions are available, the child over 40 lbs should be buckled with the lap belt and no booster seat should be used.
No child should ever be rear facing in front of an airbag.
All children age 8– 13 must wear a seat belt. (Ticket goes to the driver)
NHSTA recommends that all children age 12 and under ride in the back seat. This is NOT a law.
MORE INFORMATION ON CHILD PASSENGER SAFETY SEATS
National Highway Safety Administration
The Pittsfield Police Department is now a certified Car Seat Fitting Station and offers free safety inspections.
Child safety seat inspections are conducted by the Pittsfield Police Department by appointment only and for people who live or work in Pittsfield. You can also visit the Safe Kids web site at: www.safekids.org for a listing of certified car seat fitting stations in the capital region.
For more information or to schedule an appointment, please call the Pittsfield Police Department at (413) 448-9700 EXT 366.